Testimonials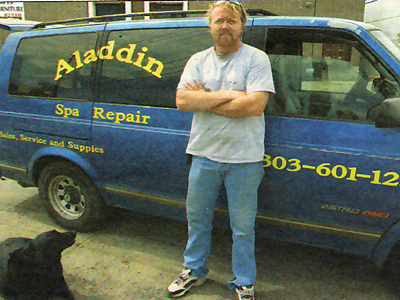 We purchased our 1st hot tub from Aladdin last spring. Ken was professional and courteous throughout the entire experience. He was a fair salesman and even gave us a discount on the installation labor. We will definitely buy our next tub from Aladdin.
Jill & Tom Bernard, Evergreen, Colorado
All I can say is - AMAZING SERVICE!! New Years 2010 and the Jacuzzi at my parentís cabin in Frisco had unexpectedly broken. I planned on proposing to my girlfriend and really needed it functional for the weekend. Ken from Aladdin came out on New Years Eve day and spent the afternoon getting everything fixed up. My fiancť and I just wanted to thank you for a perfect New Years weekend and engagement!
Mitch Steadmire & Cassie Winn, Frisco, Colorado
Ken is wonderful! Although I havenít done any business with Aladdin, I have had the pleasure of meeting Ken. I was stranded on the side of highway 285 late Sunday night with car troubles. Apparently Ken was returning from a service call out in Bailey when he saw me in distress. He pulled over and helped me with a temporary fix to my radiator so that I could get home. He was like Macgyver with some duct tape. ;) Who says chivalry is dead? Thank you Ken!
Heide Gilmore, Englewood, Colorado
The computer went out on my Uncleís hot tub and he really didnít have the money to buy a new one. With nightly temperatures in the teens, he was afraid that the tub would freeze and break the plumbing. I contacted Aladdin and Ken came out and took care of everything. He had a used computer that was compatible with our tub and loaned it to us for 2 months until we had the money to purchase a replacement. Not only did he give us a great deal on the replacement parts, but he installed the new computer for free! A+++
Travis Miller, Golden, Colorado
My hot tub froze last winter and was completely destroyed as a result. Kenny (from Aladdin) came out and gave me a free estimate which was more reasonable than I first expected. Ken worked directly with my insurance company and had my old tub removed and my new tub installed within a few days. I couldnít have asked for a better experience. Thank you Kenny.
Hilda Meyers, Fort Collins, Colorado
Aladdin Ė Small Business, Big Results! I saw Kenís work van parked in a King Soopers parking lot and thought I would give him a try. My old Jacuzzi tub needed to be replaced for years and I really never got around to doing anything about it. Ken was much cheaper than the larger spa companies and was willing to work with me on my sporadic work schedule. He was prompt and friendly. I fully support American small businesses and was pleased to have discovered another. Keep it up buddy!
Kyle Massingill, Aspen, Colorado
Aladdin Spa Repair
303-601-1238 ken@aladdinsparepair.com