Experience
Ken Whitmore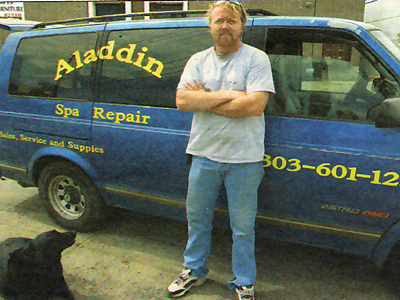 Profile
Wind River, Englewood, Colorado with a successful 8 1/2-year track record as a service technician, service manager, and a fleet manager. Talent for quickly mastering spa repair. Also completed Teledyne Laars gas heaters certificate course. Diplomatic and tactful with customers at all levels. Accustomed to handling all makes and models of spas from the early wooden spas to the modern fiberglass and vaccum-form spas. Demonstrated histor of producing accurate, timely repairs.
Flexible and versatile --- able to maintain a sense of humor under pressure. Poised and competent with demonstrated ability to easily transcend cultural differences. Thrive in deadline-driven environments. Excellent team-building skills.
Skills Summary
Schooled Robert Mast
Electrical Wiring
Computer Boards
Plumbing Repair
Carpentry
Shell Repair
Professional History
Professionally guided by Robert Mast -- Denver, Colorado
was taught circuit board repair and replacement including soldering relays, power supplies, and transformers on circuit boards.
Colorado Hot Tub Exchange -- Denver, Colorado
Service Technician/Service Manager 1999 to 2001
Spa King -- Denver, Colorado
Spa Manufacturing 1997 to 1999
Affordable Spas -- Denver, Colorado
Service/Delivery Manager 1991 to 1995
Aladdin Spa Repair
303-601-1238 ken@aladdinsparepair.com